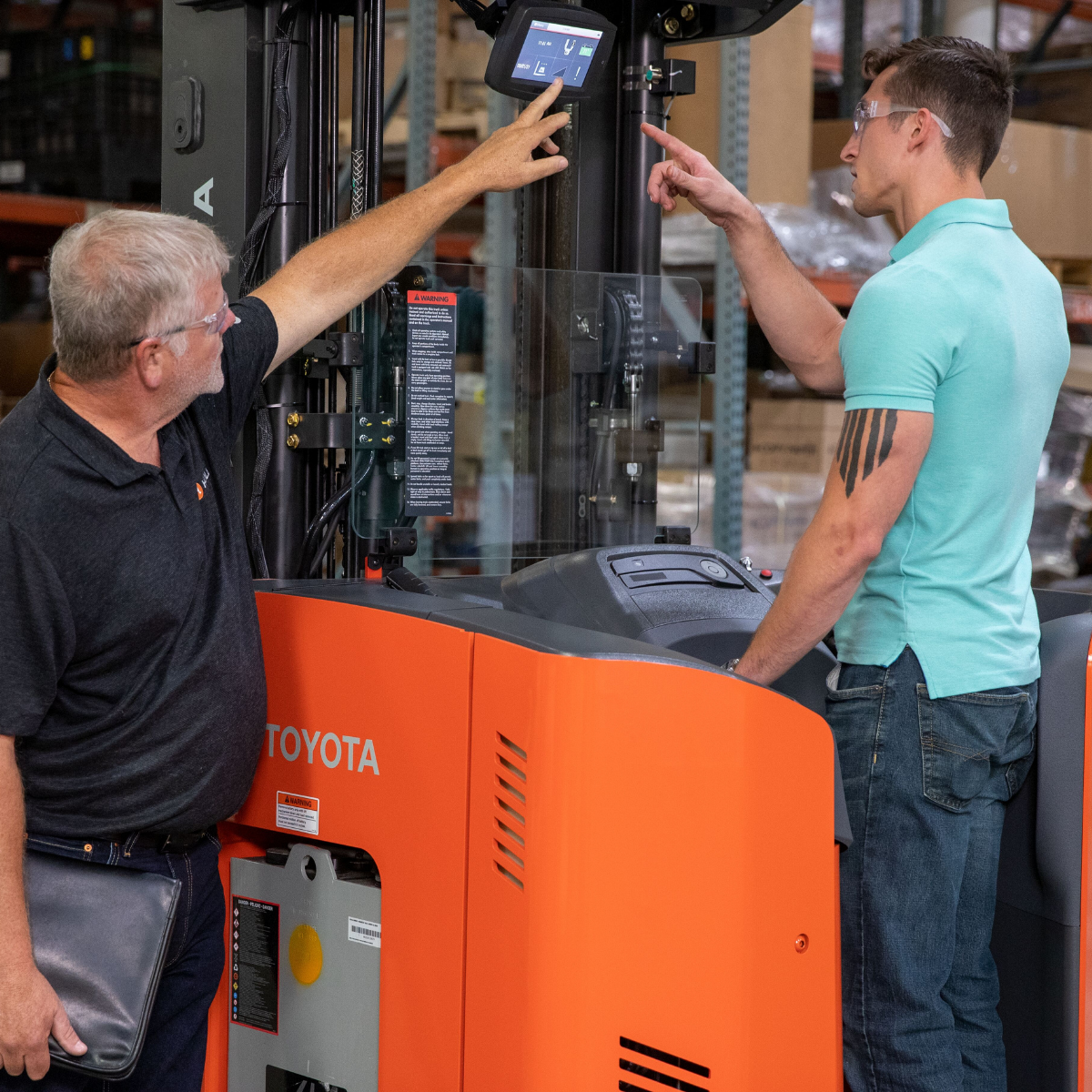 Daily Operator Checks
No matter how well designed and well-built your lifting equipment may be, no machine lasts forever without routine and proactive maintenance. The more moving parts, and the more technological features your lift truck offers, the more value it may add to the workplace and your ROI. But at the same time, technology and moving parts inevitably increase the likelihood and the variety of related problems. So, to stay one step ahead of these issues, savvy operations managers require team members to perform daily checks and monitor key indicators of proper equipment function. Here are a few moves and considerations to keep in mind as you devise and refine your maintenance program.
Develop a physical check list.
In some workplaces, smaller teams and simpler workflows are easier to manage, and employees can carry a printed checklist with them as they mentally review each item. For example, the list may require an examination of mast wires for kinks, fraying or wear. The employee can check the wires and move onto the next item on the list. For larger workplaces with high staff volume, the daily checklist should involve a completion and sign-off for each item. Either on a printed sheet or a digital tablet, employees should check an actual box after reviewing each preflight component. In both cases, and actual list should be required; don't expect employees to mentally review each item without prompting or sign-off.
Place high-priority items at the top.
The day's list should prioritize the components most likely to require attention. For example, fuel levels, battery condition and safety restraints should take precedence over general body condition. Fuel levels require regular and frequent action. Safety signaling should also receive attention between every shift.
Conduct spot checks.
Employees should check the items off on the preflight checklist every day,; however, that doesn't mean they comply fully every single day. Conduct regular spot checks to make sure each component and maintenance item gets the full attention it deserves.
Create a channel for future, not just active, maintenance concerns.
Sometimes a problem is not imminent, but still requires documentation or reporting. Make sure employees have access to a reporting channel for maintenance concerns that require no present action, but may need attention in the future.
Respond to reported issues immediately.
Don't let each daily check take place without follow-up action. If a signal or wire seems to be malfunctioning, take the lift truck out of rotation and get the problem fixed or the part repaired right away. This will reinforce the message that safety checks matter and proper reporting brings meaningful results.